HTC is proud to present a host of new and exciting features with the release of HourGlass 3.8. A new way to track time and more robust reporting feature are the highlights of the 3.8 update. More input options that result in better output for all HourGlass stakeholders.
HourGlass 3.8 Features

Administrator's Choice: Clock or Hours-based Time Tracking Methods
There's more than one way to track time. Some businesses need to know what was done and when, while others are content with a simple summary of total time incurred. Now, HourGlass provides choice. In HourGlass 3.8, administrators have the flexibility to use either the classic Clock system, whereby start and end times are attributed to an entry, or the new Hours system, where the user can simply input the total time spent on a task. Classic Clock users can even switch over to this new time tracking system and maintain data integrity in reporting. This update simplifies making timesheet entries by enabling faster, easier and more flexible time tracking.

More Robust Reporting with Enhanced Filtering Options
HourGlass has always offered a full suite of robust reporting—tracking time, projects and costs like no other application, but it's now even better! By default, reports excluded data from deactivated clients and projects. Now, with improved filter options via user-friendly checkboxes, and crystal-clear and intuitive labels, HourGlass provides the flexibility to easily include or exclude specific data sets from reports based on business intelligence needs, all at the click of a mouse! The result is more relevant, actionable and insightful data—enabling broader reporting, and better decision-making.
And Even More!
• Deactivation feedback prompts – for critical client and project status awareness
• Task completion feedback prompts – to ensure task status integrity
• HourGlass Mobile enhancements – for even better display across the latest devices and platforms
• Updated Workcode sorting within reports – for clear and intuitive sequencing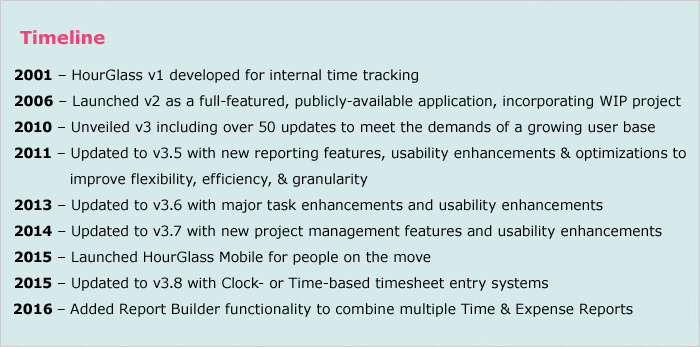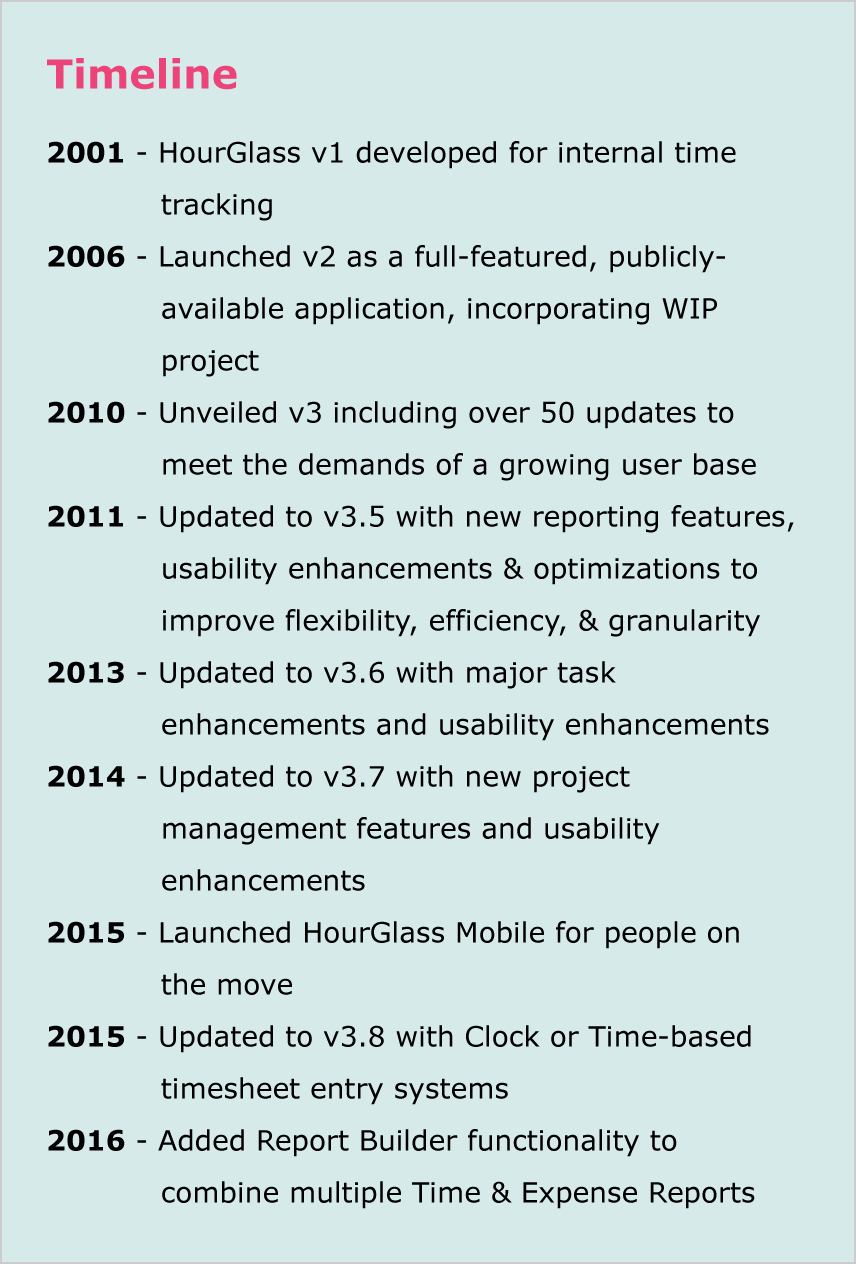 Announcing HourGlass Mobile
Announcing HourGlass v3.7
Announcing HourGlass v3.6
Announcing HourGlass v3.5
Announcing HourGlass v3
These highlights represent a small sample of the full list of the upgrades, features and usability improvements. For more information about the v3 upgrades and enhancements to HourGlass, consult the HourGlass Release Notes.